How Big is Arsenal's Coq(uelin)?
Posted On 2020-11-20
Arsenal has had a roller coaster of a season.
This really comes down to a number of factors.
To begin with, the lack of a good defensive midfielder that can protect the back 4 at any and every point in a game.
A player who sacrifices absolutely any of his attacking abilities in order to protect the fortress that is his team's goal.
A player who is ready to take one for the team by indulging in fairly mucky, often borderline inappropriate football in order to keep his side in the game.
How Big is Arsenal's Coq(uelin)
Francis-Coquelin
On the flip side, since Wenger's arrival at Arsenal in 1997, the club has been known for it's attacking prowess and he beauty with which they pass the ball around the pitch in Cryuff-like triangles, often frustrating oppositions with the amount of the ball that they keep and the latter's inability to retrieve the same for prolonged periods.
To add to that, when you add a machine like Alexis Sanchez that drives forwards and back for the whole 90 minutes and refuses to be rested, along with a tiny double-footed twisting and turning magician like Santi Cazorla, even oppositions like Chelsea and Manchester City need to be at their defensive best to stop the ball from bulging at the back of their nets.
This contrast on both sides of the pitch has been the reason behind Arsenal's ambivalent season that has precipitated on the back of becoming FA Cup champions and winning the Community Shield.
Like Inter Milan winning against Barcelona.
Stuck quite literally at the center of this contrast is Mr. Francis Coq(uelin), a 23-year-old who has up until now, been used as a squad player whenever Wenger has been short of personnel to deploy.
In fact, he has spent a majority of the last 2 seasons out on loan, with many fans thinking he would probably be sold this summer as he wasn't contributing much to the team and still eating away at the wage bill.
His fortunes changed in December of 2014 when he was called back by stingy Mr. Wenger from Charlton to bolster his midfield that saw absolutely no defensive midfielder fit bar Mathieu Flamini (who isn't that reliable anyway).
He has started every single Premier League game since then, even contributing to two clean sheets against a rejuvenated Stoke and the reigning champions at the Etihad.
He has drawn praise from the likes of Thierry Henry and has been compared, in terms of potential, to Arsenal legend Patrick Viera.
There are already some amazing defensive midfielders in the Premier League – Nemanja Matic, Fernandinho, Morgan Schneiderlin, and Victor Wanyama.
How big is Arsenal's Coq(uelin) compared to them?
Take a look at this comparison matrix from Squawka, pitting Arsenal's Coq against the others on some important parameters, all being taken as per 90 metrics.
A quick look at some of these stats, without much technical analysis, brings out some important aspects.
In the short time that he has played, Coq(uelin) is right up there with the best of the Premier League.
Yes.
He definitely does need to play for a longer run of games, around 20 odd in order to really understand if he can keep his good form going or this is just an extraordinary patch of turf he's experiencing.
As we saw in the Manchester City game, he has a physical presence in midfield, is very well positioned, and comes back almost unselfishly to help his defense, unlike Ramsey, who's the average position even in the City game was ahead of all players except Sanchez and Giroud.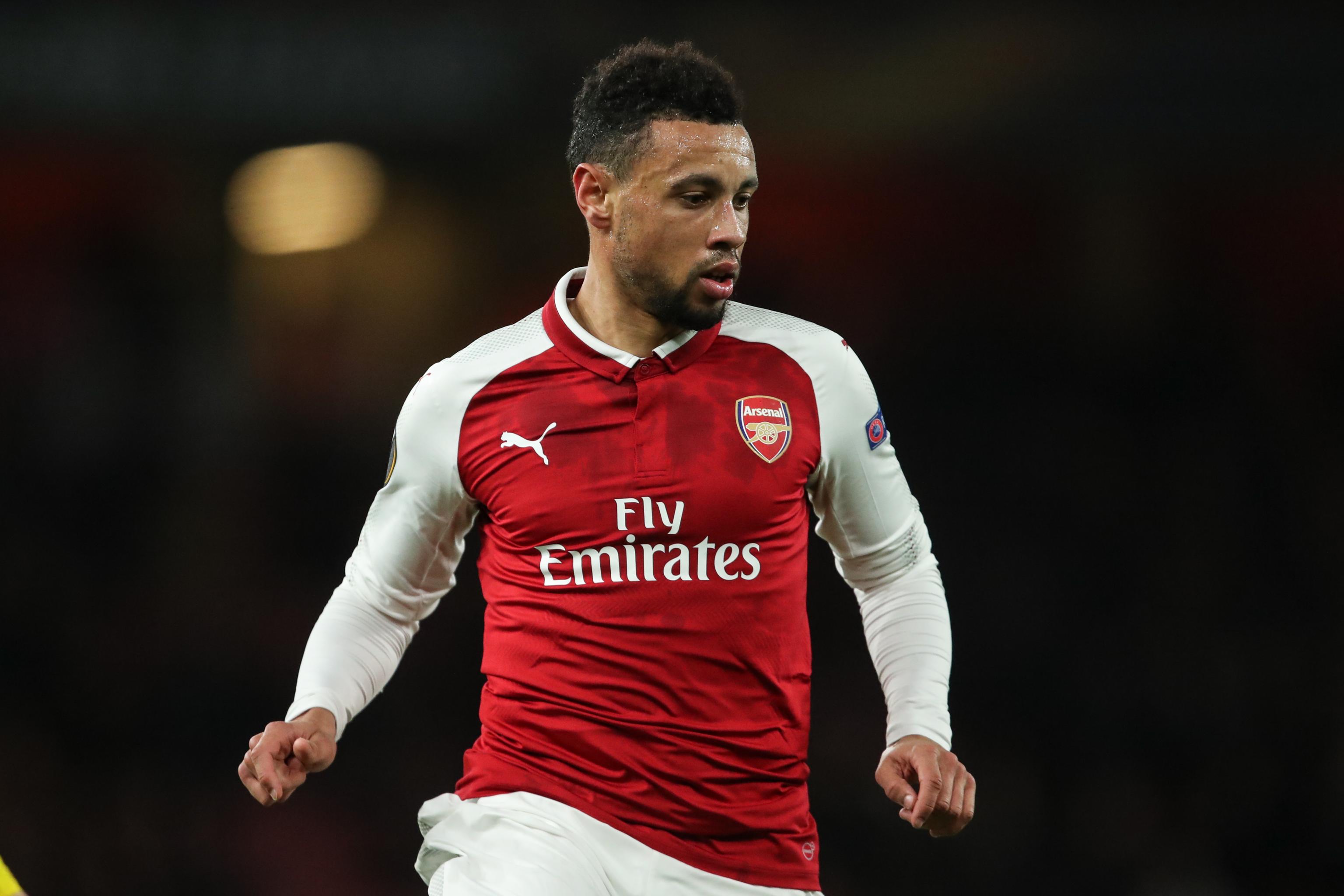 Even in the Southampton game, he was the only one who looks assured with Koscielny, Mertesacker, and Szczesny all three probably having experienced their worst games this season.
If we move on to numbers, Arsenal's Coq(uelin) is way ahead of the pack in terms of clearances, interceptions, and aerial duels won per 90 minutes.
This of course is slightly skewed considered he's only played half the number of games that the others have played.
Yet, after appropriate adjustments such as deviations from normal play, he's doing as well as the group of top defensive midfielders if not better.
One criticism of him could be his lack of take-on.
While he has a 100% success rate in his take on, he still isn't making as many take on a game as he should be.
In simpler terms, he isn't getting in there with tackles as often as players like Matic and Fernandinho.
He definitely makes up for it with an abnormally high number of clearances and interceptions.
However, if the same stat is extrapolated onto the pitch, players like Fernandinho are not afraid to commit to a tackle in order to win the ball in the middle of midfield.
Fernandinho attempted 3 take on, all close to the halfway line as compared to Coq(uelin) who only attempted one deep in his own half.
One way of looking at this is Coq(uelin) still isn't able to dominate proceedings high up the pitch.
With Arsenal's incessant attacking style, by the time he commits to a tackle, Arsenal is already deep in their own half.
Another way of looking at it is that Coq(uelin) needs to commit in those difficult situations.
He needs to position himself going forward in such a way that he can get stuck into an opponent's player's legs when Arsenal get his on the counter.
Either way, it almost seems like most of Coq(uelin)'s defensive heroics are more last-minute than pre-determined and precautionary.
He made 11 clearances and 6 interceptions, out of which 9 and 4 respectively were in the Arsenal box.
That's not a bad thing if it means you're preventing the opposition from scoring.
However, once in a while a ruthless team like Chelsea will come along and even a large number of clearances and interceptions will not stop their barraging.
On that front, Coq(uelin) has age on his side.
Chelsea's Nemanja Matic is right up there with Patrick Vieira as one of Premier League's top midfield badass.
If you closely compare Coq(uelin) to the Arsenal Invincible, at the moment, he lacks two things.
A dominant physical presence, which Viera possessed by sheer virtue of his height and body frame.
The second trait that he lacks is that of an attacking menace.
Vieira's unexpected forward runs would often trouble the opposition's defenses.
At the moment, Wenger is playing him a very deep CDM role, as compared to Vieira who played the central pivot in a classic 4-3-3.
However, Wenger has always expected his CDMs to juxtapose a solid defensive showing with the ability to create chances from deep.
The most recent example of the same is Alex Song, who is doing wonders at the moment at West Ham with the same abilities he learned at Arsenal.
Arsenal's Coq(uelin) can be even bigger.
With age on his side and the fact that Wenger has a good history of working with young players and converting them into world-class athletes, Arsenal's Coq(uelin) could potentially turn into one of Arsenal's biggest midfield … package ever.